Cake pops
I finally decided to take a stab at making cake pops this past weekend. They aren't particularly hard, but they do involve a lot of steps. My small kitchen added an additional challenge. That said, these things taste amazing and are worth it in the end. I might be so bold to call these things crack pops-they're that good.
Here is how my pops turned out. I used white cake mix and white chocolate for the coating. I think yellow cake would have worked too, but this was definitely a safe bet.
You can get really creative with these bad boys. There is no way I will ever have the patience to make something like these, but they are adorable. Covering with sprinkles works too ;)
I was going to photograph my step by step process, but there is another blog that nailed it. There are lots out there. Just google "Cake pop how to"
The below step by step pictures are brought to you from
Love from the Oven
blog (amazing blog!) I definitely think her hint about melting the chocolate to hold the sticks in place is a must do. I only lost one pop in the process. Matt happily ate it.
http://www.lovefromtheoven.com/2011/02/09/cake-pops/
Here's how to make cake pops…
Easy ingredients – a cake mix (and what you need to make the cake), a can of frosting, chocolate, sprinkles and sticks.
Make up your cake mix and bake.
Now we have cake. And now we are going to destroy the cake…
And now into a bowl. I know some people use a food processor, but this was easy enough, and less clean up than the food processor would have been.
Now to add the frosting. I am not a fan of canned frosting, so it was a bit painful for me to add it, but hey, it certainly qualifies as easy.
I used about half the can.
After combining the cake and frosting it formed a ball of dough so to speak. I think some people chill the dough, but since my little one was napping I had to take advantage of the time and went straight in to creating the cake pop balls.
The next step was to put the sticks in. I prefer to dip the stick into a bit of melted chocolate, than into the cake pop. This seems to help the pop stay on the stick better, which helps a lot when you are dipping them in the chocolate.
After putting the sticks into the cake pops, I stuck them in the fridge for a few hours.
After that I dipped each one into the chocolate and than coated with a variety of different sprinkles. And ended up with cute little things like this…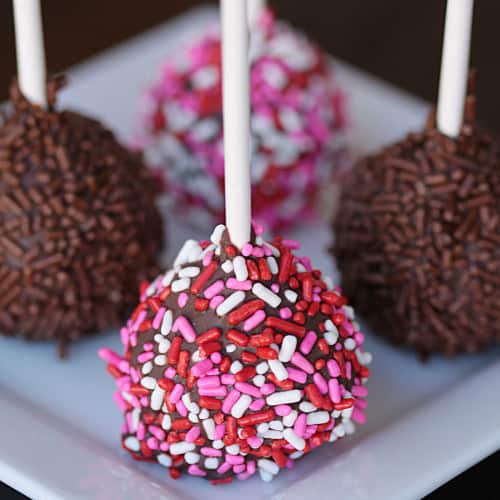 Happy baking!!!